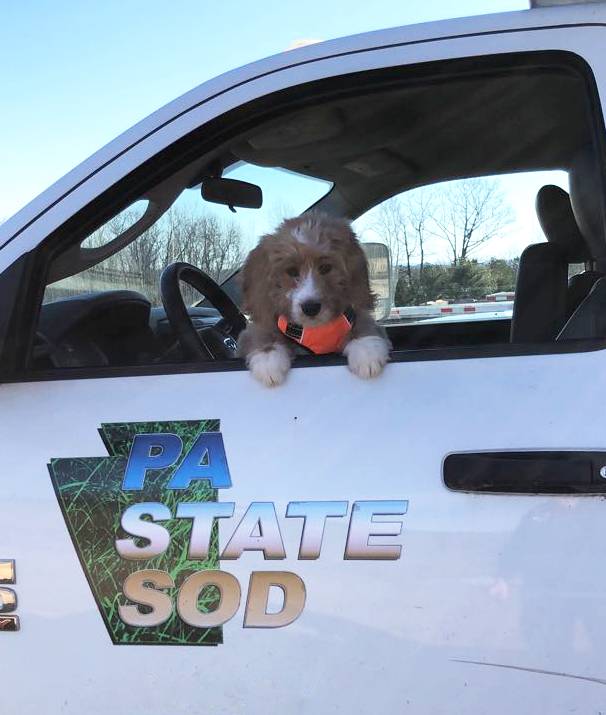 Who we are
About PA State Sod
Established in 2006 by Leonard Swisher. Leonard was in the coal mining business since the early 80s and as times change he decided to put some of his time and energy into starting a sod farm. Since 2011 the farm has been run and operated by Justin Swisher, and with the help of Jonathan Kovall and Jeannine Swisher it has grown to have 3 more farm locations, and we ship sod all over the state of Pennsylvania and even into Ohio, West Virginia, Maryland and NY.
PA State Sod specializes in Turf Type Tall Fescue, and Kentucky bluegrass sod. With our tractor trailers and small delivery trucks we can handle jobs big or small.
What We Do
Premium Sod and Sod Mixes for Businesses and Individuals
PA State Sod offer pallets of sod, each piece of sod is 2×5′ and is 10sqft.  A full pallet is 600 sqft. We can do partial pallets as well.
We also offer sod big rolls.   Each roll is 3.5 ft wide by 72 ft long. Big rolls are designed for large wide open areas. We offer a roll out service for our preferred landscape customers.
We serve golf courses, sports fields, residential, commercial and municipality applications. 
Feel free to email or contact us to find out how we can help you with your lawn, field, and more.
Physical Address
31 Mt. Zion Rd, Clearfield PA, 16830
Billing Address
PA State Sod
P.O. Box 55 Clearfield, PA 16830